The Church of St. Martinian. The porch was built in the middle of the 19th century. 1641
The tented church was built over the tomb of the second founder of the St. Ferapont Belozero Monastery St. Martinian next to the southern wall of the Virgin Nativity Cathedral.
A carved inscription on a white stone plaque informs of the conclusion of the construction on August 1, 1641.
The church was built by masters from Kirillov. Its construction is simple and laconic: a small cube with an eight-faceted tent and a slender drum.
The light solution of the church interior is unique: the soffits of the windows placed only at the top of the church direct the shaft of light on Martinian's tomb, thus creating a radiant effect. The dark space of the tent ending with a light drum is associated with a tunnel that leads to the Kingdom of Heaven.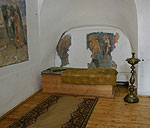 Fresco above the Relics of St. Martinian. Dionisy. 1502
In 1502, Dionisy painted a representation of the Mother of God of Pechersk with Archangels Mikhail and Gabriel, St. Nicholas and the kneeling monastery founders Ferapont and Martinian on the exterior southern wall of the cathedral. After the construction of the stone Church of St. Martinian this part of the exterior wall painting is situated in the vaulted embrasure of the northern wall of the church. It has a rare representation of the founders, still not canonized (without a halo) in the 16th century. They were canonized only in the middle of the 20th century.
Since 1838 the church houses a two-tier iconostasis made by a Vologda middle class citizen Nikolai Milavin. Figurines of Archangel Gabriel and Virgin Mary on the carved Beautiful Gates depicting the scene of the Annunciation are missing. The inscription The Immortal Meal alludes to the sacrament of transformation of bread and wine into the body and blood of Jesus Christ.
The ensemble of the St. Ferapont Belozero Monastery monuments includes


The Church of St. Martinian
The church was built over the tomb of the second founder of the St. Ferapont Belozero Monastery St. Martinian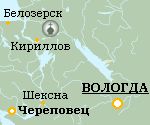 The St. Ferapont Belozero Monastery
The monastery is located in the village of Ferapontovo in Kirillov region of Vologda area
Search