The Treasury Chamber. 1530s
The oldest extant monument of civil architecture of the 14th century in the north of Russia was intended for storing valuables and documents of the St. Ferapont Belozero Monastery. The documents as well as the monastery inventories were kept here till the monastery's closure.
The architecture of the two-storey building with a pitched roof is simple and monumental. Its massive walls and small window openings are barren of any ornaments. Both floors are crowned with cylindrical vaults. Under the vault of the first floor there is a chamber with a door leading to a staircase inside the wall. At the end of the staircase there is a cache. In the western wall of the second floor above the inside staircase there is a pantry with a small window and another cache.
The ensemble of the St. Ferapont Belozero Monastery monuments includes


The Treasury Chamber
The treasury chamber was intended for keeping valuables and documents of the Ferapontov Monastery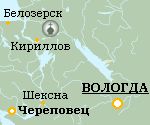 The St. Ferapont Belozero Monastery
The monastery is located in the village of Ferapontovo in Kirillov region of Vologda area
Search