Dionisy's Autograph
in the soffit of the northern portal. It describes the creation of the St. Ferapont Monastery frescoes (left side)
Search
The Chigasov Monastery. The Saviour Transfiguration Cathedral. The late 1480s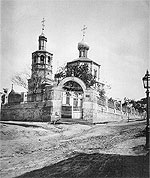 The Church of the All-Merciful Saviour at Chigasy. A photo from N. Naidenov's album Moscow. Cathedrals, Monasteries and Churches, 1882
The monastery was founded by Hegumen (abbot) Chigas in the second half of the 15th century in Moscow, behind the River Yauza. Chronicles recount that in 1482 a brick Church of the Saviour was laid by Hegumen Chigas behind the River Yauza.
Dionisy painted the cathedral, supposedly, in the 1480s.
The frescoes have not survived, as the church was burnt down during the Great Moscow fire of 1547, an account of which was recorded in chronicles.
In 1625, the monastery no longer existed, and the Saviour Cathedral became a parish church. It is situated at Spasochigasov lane. Nowadays, the lane is blocked by 20th century buildings.
Experts know of around ten cathedrals whose walls were painted by Dionisy. Some of the painter's works are lost for good; some have been preserved by restorers