The Entrance to the Ascension Monastery
In 1929, the Ascension Cathedral was destroyed together with other cloister buildings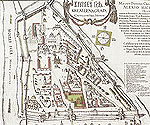 The Moscow Kremlin
The Kremlingrad, the fortress of Moscow. The layout of the Moscow Kremlin. Early 1600s
Search
The Moscow Kremlin. The Ascension Monastery. The Ascension Cathedral. 1482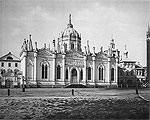 The Ascension Monastery. A photo from N.A. Naidenov's album Moscow. Cathedrals, Monasteries and Churches, 1882
The Ascension Monastery was founded in 1386 by Princess Eudoxia, Dmitry Donskoy's wife. The Ascension Cathedral laid by Eudoxia was constructed by Sofia Vitotovna, the wife of Vassily I, and after repeated fires in Moscow, it was completed by Maria Yaroslavna, the wife of Vassily II in 1467.
Vassily Dmitrievich Ermolin, a well-known Russian architect, was invited to carry out the re-construction.
In 1482, the Byzantine 14th century miracle-working icon Virgin Hodegetria brought from Constantinople was damaged by another fire that ravaged the cathedral.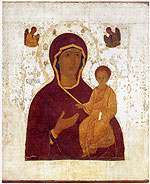 The Holy Virgin Hodegetria. Dionisy
According to the Sophia chronicles, it was completely destroyed in 1482, only the board remained, so Dionisy repainted the image on it.
Thus restored by Dionisy, the icon survived the terrible fire in 1545 that burnt down the monastery, having killed 10 old monks and a great deal of people and destroyed the church together with sacred icons and church vessels.
Today Dionisy's Virgin Hodegetria is exhibited in the Tretyakov Gallery.
Experts know of around ten cathedrals whose walls were painted by Dionisy. Some of the painter's works are lost for good; some have been preserved by restorers