Priest James, Jesus' Brother
The Virgin Nativity Cathedral wall painting. Section of Central Lengthwise Nave North View
Search
Genealogy of Icon Painter Dionisy
Little is known about the life and genealogy of Dionisy, though more than about his predecessors Theophanes the Greek and Andrei Rublev. Hagiographies, church codes and chronicles provided art historians with nuggets of invaluable information on Dionisy's life and creative work.
The dates of Dionisy's birth and death are estimated to be approximately 1450 – 1520. His name was first mentioned in the hagiography of Paphnutius of Borovsk compiled by Archbishop Vassian. Mitrophan and Dionisy who headed the artel of painters of the Virgin Nativity Cathedral of the St. Paphnutius Monastery are called "the most renowned in their field".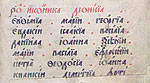 The Genealogy of Icon Painter Dionisy
Later on the biography was supplemented with episodes of Dionisy's miraculous healing. While painting the Nativity Church, Dionisy had such pains in his legs that he could not work but was healed after a conversation with the hegumen. Another episode in the sacred biography describes how Dionisy brought some meat (according to the legend, some lamb) and was badly punished for it by a serious illness.
Twice healed and brought to reason by Paphnutius, Dionisy was cleansed and blessed in order to carry out his spiritual mission of icon painting. Some researchers suppose that Dionisy took monastic vows shortly before his death.
What do we know about the genealogy of the great master? Dionisy belonged to the boyars and held quite a high position in the society. He descended from the noble Kvashnins family whose clan was thought to date back to the time of a journey made by Rodion Nestorovich with his court of one thousand seven hundred people to the Moscow grand prince Ivan Danilovich".
His ancestor was Ivan Rodionovich Kvashnya, a boyar of Dmitry Donskoy, who died in 1390. To all appearance, Dionisy and his sons received their family nickname "the Black" from Dionisy's mother. From the bead-roll of the St. Ferapont Belozero Monastery, containing names of Dionisy's wife and her parents, we gather that Dionisy's wife Maria came from the family of a clerk Eliazar Tsypletev, a descendant of a princely family, who owned Belozero monastery estates. We also know for certain that Dionisy's children were members of his artel and took part in wall painting of the St. Ferapont Belozero Monastery in 1502. In his research article V. Dergachev publishes the genealogical tree of the painter composed on the basis of the bead-rolls of the St. Ferapont and St. Cyril Belozero monasteries, the Assumption bead-roll of 1479 as well as the land deeds of the Simonov Monastery where Dionisy was trained in the studio of the elder Mitrophan.
As V. Dergachev truly remarks, "the genealogy of the outstanding Russian painter of the 15th century provides exceptionally rich data and documentary evidence which helps to uncover his social standing and construct the great master's biography". Such biography will be written in future.